The history of Statkraft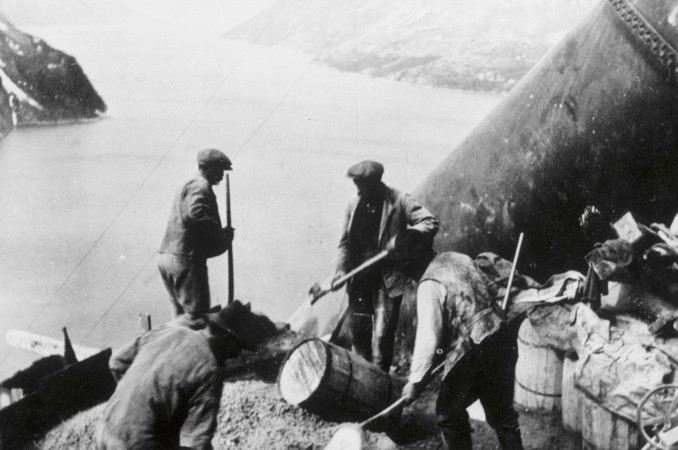 Building Glomfjord power plant.
Statkraft's history is inextricably linked to the development of hydropower generation in Norway. Though Statkraft was not established as an independent enterprise until 1992, its power plants and business operations date as farback as the end of the 19th century, when the power of the country's waterfalls was first harnessed.
1895 The Norwegian state pays NOK 23,245 to buy its first waterfall, Paulenfossen, to supply electricity to the Setesdalsbanen railway line.
1921 The Norwegian Water Resources and Energy Directorate (NVE) is created and given responsibility for constructing and operating Norway's state-owned power plants.
The Norwegian Storting (parliament) allocates funds for the regulation of the Numedalslågen river and the purchase of the Glomfjord power plant in Nordland.
1960 Direktoratet for Statskraftverkene (the Directorate for State-Owned Power Plants) is created as a separate department within the NVE.
1986 Statskraftverkene becomes an autonomous state-owned enterprise under the ownership of the Ministry of Petroleum and Energy.
1991 Proposition no. 104 to the Storting states that "the state-owned enterprise may renegotiate the terms and conditions of all its contracts on a commercial basis". The Energy Act comes into effect with the objective of "more rational operations and flexible power utilisation".
1992 Two state-owned enterprises are created out of the original one: Statkraft SF for power generation and
Statnett SF for the national distribution grid. Proposition no. 100 to the Storting states: "Statkraft shall be operated as a commercial enterprise, but will have responsibility for statutory-priced contracts."
1993 The Nordic power exchange, Nord Pool, is established.
1996 Statkraft acquires its first shares in other companies: Sydkraft and Oslo Energi Produksjon.
1997 The first long-term supply contracts with Norwegian industry are signed with Hydro and Norske Skog.
Construction of the last major hydropower scheme, Svartisen in Nordland, is completed.
1998 Statkraft opens its first European trading office in Amsterdam, The Netherlands.
1999 Statkraft acquires shares in BKK and Scanenergi. A trading office is opened in Düsseldorf, Germany.
Proposition no. 52 to the Storting extends leasing contracts and allows the phasing out of statutory-priced industrial contracts.
2000 Statkraft sells Statkraft Anlegg to NCC and acquires shares in Vestfold Kraft, Skiensfjordens Kommunale Kraftselskap (later merged and named Skagerak Energi) and Hedmark Energi Holding AS (HEAS).
Prime Minister Jens Stoltenberg says: "The days of large-scale hydropower schemes are over." The construction of a hydropower scheme at Beiarn in Nordland is halted by Petroleum and Energy Minister Olav Akselsen.
2001 Statkraft acquires 1/3 of Baltic Cable, the cable between Sweden and Germany.
Construction of Norway's first large-scale wind farm begins at Smøla.
Statkraft acquires shares in Agder Energi and takes 100 per cent control of TEV.
2002 Shareholding in Sydkraft is increased to 44.6 per cent.
In Report no. 22 to the Storting, the government announces plans to convert Statkraft into a limited company.
The Norwegian Competition Authority orders Statkraft to sell off E-CO Vannkraft, HEAS and TEV or equivalent assets.
Statkraft Norfund Power Invest (SN Power) and Småkraft AS are established.
2003 Statkraft Grøner is sold to SWECO.
2004 With effect from 1 October, Statkraft's business is transferred from the state-owned enterprise Statkraft SF to the limited company Statkraft AS, and the group Statkraft AS is created.
2005 Investment decisions for gas power projects: The board of Naturkraft (in which Statkraft has a 50 per cent take) decides to go ahead with the construction of Norway's first commercial onshore gas-fired power plant at Kårstø in Rogaland.
Statkraft signs a cooperation agreement with German energy company Mark-E for the construction of a 400 MW gas-fired power plant in Herdecke. Statkraft decides to build and operate a modern 800 MW gas-fired power plant in Knapsack.
Statkraft acquires 24 hydropower plants with aq total annual generation of 1.3 TWh in Sweden and Finland from E.ON Sverige.
2006 Kjøllefjord wind farm opens.
Statkraft is currently involved in nine wind farm projects in the UK.
Statkraft opens offices in London and Sofia.
Statkraft Southeast Europe EOOD in Sofia obtained a license for trading with Electric energy in Bulgaria.
2007 Statkraft establishes own representation project offices in Belgrade, Bucharest and Tirane significantly increases the activity level within hydropower development in southeast Europe. Futher more production starts at Knapsack and Herdecke in Germany and Kårstø in Norway.
2008 On 24 July Statkraft and E.ON signed a final agreement for a swap deal worth NOK 44 billion. At the end of the year Statkraft took over a total of 63 power and district heating plants in Sweden, Germany and the United Kingdom. The agreement made Statkraft the fourth-largest power generator in Sweden, doubled the Group's production capacity in Germany and established a firm foothold for the company in the United Kingdom.
2009 On 24 November 2009 Her Royal Highness Crown Princess Mette-Marit of Norway opened the world's first osmotic power plant at Tofte, outside Oslo. The plant generates power by exploiting the energy available when fresh water and seawater are mixed. Osmotic power is a renewable and emissions-free energy source that Statkraft has been researching into for 10 years and that will be capable of making a substantial global contribution to eco-friendly power production.
2010 Christian Rynning-Tønnesen took over as new President and CEO on 1 May 2010.
Cakit, the Group's first hydropower plant in Turkey, came online in June.
2011 Major progress was made in 2011 in the cooperation with Statkraft's most important customer group, the power-intensive industry. Twelve new, long-term industrial contracts have been entered into over the course of the year.
In 2011, Statkraft completed the construction of a wind farm in Sweden and started the construction of two new wind farms in Sweden and one in Scotland.
2012 Sheringham Shoal, owned in partnership with Statoil, is located off the coast of Norfolk and is the third largest offshore wind farm in the world. Its capacity can supply 220 000 British homes with pure energy.
Svartisen power plant in Norland nearly doubles its capacity with a new unit at 250 MW in addition to the existing 350 MW.
In Turkey, one of the fastest growing energy markets, Statkraft operates hydropower plant Cakit and has Kargi and Cetin under construction. The three power plants will produce about 2 TWh annually when completed.
2013 Statkraft and Norfund have signed an agreement expressing their intention to restructure and prolong their cooperation within renewable energy. The aim is to create a leading international hydropower cluster, based on assets from Statkraft, SN Power and Agua Imara.