Anna Holm Aftret
Anna works with operation and maintenance support in the Production business area.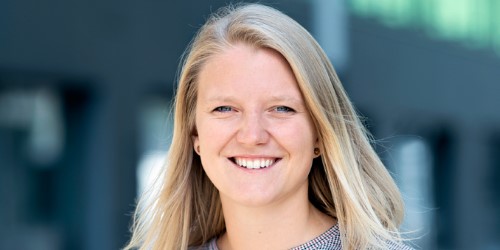 Born
1990
Nationality
Norwegian
What made you apply for the trainee program?
Statkraft is one of the few companies where you are 100 per cent certain that you get to work with renewable energy. It is also preferable to work on the asset side because I will be able to work with hands-on developments of projects on plant level, with realisation and further development. Moreover, I find the focus on innovation appealing and experience Statkraft as an energetic and future-oriented company. Thanks to its size, it also encompasses many work opportunities, anything from machinery to marketing. My previous experience and cooperation with Statkraft were also a crucial component in the decision of applying to the International Trainee Program. I felt welcome, and I got to see many of the power plants and other facilities. People are very knowledgeable in Statkraft, and I think that this is a workplace where I can grow and learn a lot.
What will the trainee program look like for you?
My first rotation is in operation and maintenance support, and my second rotation will most likely be in the Production unit in Brazil. Then I will move to Gaupne in Luster Municipality in Sogn og Fjordane County and work for the regional dispatch centre, Region Middle Norway.
What did you do before the trainee program?
I graduated from the Norwegian University of Science and Technology with an M.Sc. in Energy and Environmental Engineering. As a summer intern at Statkraft's Production unit in 2016, I worked with reporting efficiency to the market section and simulation of power plant regulation. I also got the opportunity to write my master thesis in cooperation with Statkraft. The topic was hydropower, and during my master, I developed a simulation model of Songa power plant in Vinje Municipality in Telemark County, that I used to perform various tests. While studying, I worked with district heating at Hafslund Varme. After graduating, I spent 1,5 year as a consulting engineer.
What surprised you the most when you started?
When I think of Statkraft, I mainly think of hydropower with a little wind on the side. Therefore, I was surprised to see the new strategy, where we aim for extensive and rapid growth within wind and solar. It is fun to work for a company that dares to take a leap into unknown territory, as well as it provides new opportunities in the future.
Is there anything else you want other potential candidates to know?
The networking initiative 'UNGkraft' will take care of you and regularly arranges after work for younger employees. Great opportunity to get to know your colleagues and have fun.

Read more about other trainees
Siri Hartvedt Nordén

Siri works in the Nordic Energy Management unit in the Markets & IT business area.

Read more

Ole Martin Røsnæs

Ole-Martin works in the Risk Management Trading unit in the Markets & IT business area.

Read more

Ida Johanne Haga

Ida Johanne works in the New Business unit in the European Wind and Solar business area.

Read more

Christopher Kenny

Christopher works in an Ireland-based project development team in the European Wind and Solar business area.

Read more

Hanna Marie Løkken

Hanna Marie works in the Procurement Systems and Processes unit in Group Procurement in Oslo.

Read more

Anna Holm Aftret

Anna works with operation and maintenance support in the Production business area.

Read more