Christopher Kenny
Christopher works in an Ireland-based project development team in the European Wind and Solar business area.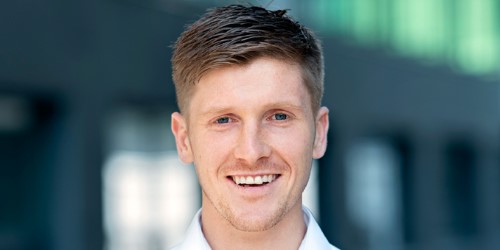 Born
1991
Nationality
Irish
What made you apply for the trainee program?
What better way to contribute to the industry than to work with the largest producer of renewable electricity in Europe? Statkraft's trainee program offers a unique opportunity to rotate to different areas of the business that the trainee finds interesting. Such flexibility I have never encountered before as with most trainee programs one's rotations are pre-assigned if there are any rotations at all.
What will your trainee program look like?
I started working with Statkraft in February as a trainee project engineer in the project development team in Ireland. Thanks to having already six months experience in this area, I will spend the three rotations of the trainee programme in other business areas. These will complement the project development role that I will be returning to after the trainee programme.
For my first rotation, I will be working in Emobility based in Oslo. I will then rotate to the grid and engineering team in the Cork offices. I have not confirmed my final rotation yet, but I am considering venture capital which based in Düsseldorf.
What did you do before the trainee program?
I completed a bachelor's degree in Energy Engineering at University College of Cork. During my bachelor's, I participated in a five-month internship with General Electric's Power and Water Department. I then continued with my studies completing a Master of Mechanical Engineering at Cork Institute of Technology and proceeded with a certificate in agriculture. After graduating, I was hired in the graduate programme of the Irish Water cross industry. While working with Irish Water I became aware of the trainee position in the Statkraft Ireland offices. I jumped at the opportunity as I believe that the renewable energy sector is where I can make the greatest impact on transitioning to a more sustainable future.
What surprised you the most when you started?
I was surprised by the variety of different business areas in the company. In Ireland, the focus is on wind and solar energy and battery storage. Still, it is very intriguing to see that Statkraft is also heavily involved in hydropower, energy trading, EV charging networks, district heating, biofuels, data centres, floating solar and venture capital.
Is there anything else you want other potential candidates to know?
I would really highlight the fact that the trainees get to choose their rotations. Statkraft is encouraging you as a trainee to discover what you want to do, and your niche.

Read more about other trainees
Siri Hartvedt Nordén

Siri works in the Nordic Energy Management unit in the Markets & IT business area.

Read more

Ole Martin Røsnæs

Ole-Martin works in the Risk Management Trading unit in the Markets & IT business area.

Read more

Ida Johanne Haga

Ida Johanne works in the New Business unit in the European Wind and Solar business area.

Read more

Christopher Kenny

Christopher works in an Ireland-based project development team in the European Wind and Solar business area.

Read more

Hanna Marie Løkken

Hanna Marie works in the Procurement Systems and Processes unit in Group Procurement in Oslo.

Read more

Anna Holm Aftret

Anna works with operation and maintenance support in the Production business area.

Read more