Hanna Marie Løkken
Hanna Marie works in the Procurement Systems and Processes unit in Group Procurement in Oslo.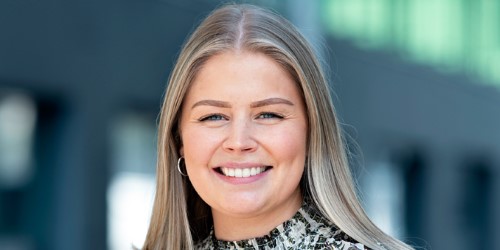 Born
1994
Nationality
Norwegian
What made you apply for the trainee program?
I knew I wanted to return to Statkraft after I finished my internship at Statkraft. The internship offered me a sneak peek into the renewable energy industry and how a procurement unit in a large company works. As I found this extremely interesting, I was pleased to see that a position in Group Procurement was announced as part of the International Trainee Program this year. I just had to apply!
What will your trainee program look like?
My first rotation in the trainee program will be in Group Procurement. Hopefully, I will get the opportunity to learn to know all three subunits, namely Procurement Systems and Processes, Category Management, and Project Procurement. As of now, I do not know what or where my two final rotations will be. Overall, I look forward to learning more about other areas of Statkraft.
What did you do before the trainee program?
I hold a BSc in Business Administration from the Inland Norway University of Applied Sciences. Further I took a MSc in Business, with a major in Logistics, Operations and Supply Chain Management at BI Norwegian Business School. As part of the master's degree, I had the opportunity to spend two months as an intern in Statkraft's Group Procurement unit.
What surprised you the most when you started?
It surprised me how interested all employees are in getting to know the trainees. They are genuinely curious regarding the trainee program in general and my rotations. Additionally, they are eager to get me to tag along to learn as much as possible throughout this first year in Statkraft.
Is there anything else you want other potential candidates to know?
After joining the trainee program, I have realized the unique possibility it offers for personalized learning. The trainees have different rotations throughout the year, which are tailored to your interests and your future position after the trainee program has ended.

Read more about other trainees
Siri Hartvedt Nordén

Siri works in the Nordic Energy Management unit in the Markets & IT business area.

Read more

Ole Martin Røsnæs

Ole-Martin works in the Risk Management Trading unit in the Markets & IT business area.

Read more

Ida Johanne Haga

Ida Johanne works in the New Business unit in the European Wind and Solar business area.

Read more

Christopher Kenny

Christopher works in an Ireland-based project development team in the European Wind and Solar business area.

Read more

Hanna Marie Løkken

Hanna Marie works in the Procurement Systems and Processes unit in Group Procurement in Oslo.

Read more

Anna Holm Aftret

Anna works with operation and maintenance support in the Production business area.

Read more