Ida Johanne Haga
Ida Johanne works in the New Business unit in the European Wind and Solar business area.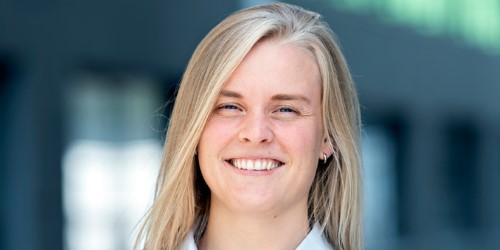 Born
1992
Nationality
Norwegian
What made you apply for the trainee program?
After my first meeting with Statkraft, I had a taste for more. Statkraft seems to be an excellent place to develop and learn a lot as a trainee, where you will be challenged, cheered for and considered part of the team. Besides, I experienced it as a company with a short distance from thought to action. It means that managers will include you in decisions and you are both allowed and expected to contribute with ideas and inputs – also quite high up in the hierarchy. Statkraft also works with renewable energy and topics I am very interested in. I want to be part of a company where I can make an impact on the world!
What will your trainee program look like?
I work in the New Business unit which explores new business initiatives outside of Statkraft's core areas and aims to find one to two new business lines by 2025. Maybe we will find the next big thing in the energy world! My rotations are not completely settled yet, but I am excited to see where I will work and what I will learn during the next year.
What did you do before the trainee program?
I completed a MSc in Energy and Environmental Engineering at the Norwegian University of Science and Technology. As my major, I specialized in energy use and energy planning, researching a novel hydrogen evolution technology. I also spent one semester at the Technical University of Denmark. There I gained new perspectives and insights into how communities can implement renewable technology and approach the challenges related to climate change.
While still a bachelor's student, I joined Statkraft's Summer Project 2016. In a group of highly skilled international students, we worked with the question of how sustainable cities may be an important driver in the transition towards a greener society. We excitingly verified the hypothesis that many cities are in front of national regulations in terms of environmental action.
What surprised you the most when you started?
I guess I am surprised by the diversity in backgrounds and work tasks of the people working here. There is far more to do within the corporation than one might imagine – everyone from traders to sociologists to engineers and analysts is working in the various departments. I am also pleasantly surprised at how fast I have been given my own tasks and responsibilities in my unit and how friendly everyone is!
Is there anything else you want other potential candidates to know?
The trainee position is likely to be adapted to your skills, ambitions and wishes. It means that there is a good chance you get to work with topics and areas you find very exciting. Maybe even more than you initially thought. Go ahead and apply!

Read more about other trainees
Siri Hartvedt Nordén

Siri works in the Nordic Energy Management unit in the Markets & IT business area.

Read more

Ole Martin Røsnæs

Ole-Martin works in the Risk Management Trading unit in the Markets & IT business area.

Read more

Ida Johanne Haga

Ida Johanne works in the New Business unit in the European Wind and Solar business area.

Read more

Christopher Kenny

Christopher works in an Ireland-based project development team in the European Wind and Solar business area.

Read more

Hanna Marie Løkken

Hanna Marie works in the Procurement Systems and Processes unit in Group Procurement in Oslo.

Read more

Anna Holm Aftret

Anna works with operation and maintenance support in the Production business area.

Read more