Our ongoing projects in the UK
As Europe's largest producer of renewable energy Statkraft has an ambition to grow further within hydropower, wind and solar power. In ramping up as a wind and solar developer Statkraft will significantly grow its onshore wind portfolio in the UK, focusing on Scotland and Wales.
Wind power development projects
We are proud to be working in the UK's wind industry, the country's single biggest source of renewable power. Onshore wind is the cheapest source of power generation today and with the weather in the UK (the windiest country in Europe) it makes sense to harness these resources for our energy needs.
Our development team's combined experience have seen over 2 Gigawatts of onshore wind projects delivered across the UK, working with industry leaders such as AES, JLL, Smartest Energy, RES, RWE (Innogy), REG Power and Greencoat UK Wind.
Statkraft believes in the fundamental requirement of the UK for significantly increased deployment in onshore wind over the coming decade, based on its position as the most cost-effective technology to achieve the UK's energy and climate goals.
As a consequence, Statkraft will significantly grow its onshore wind portfolio, focussing on Scotland and Wales, via greenfield developments, acquisition of mature projects and via partnering on new development projects and portfolios.
In August 2019 Statkraft acquired UK onshore wind developer Airvolution Clean Energy Ltd. Since 2017 Statkraft and Airvolution had been working together in a development partnership, to identify, secure and bring forward project opportunities in Scotland.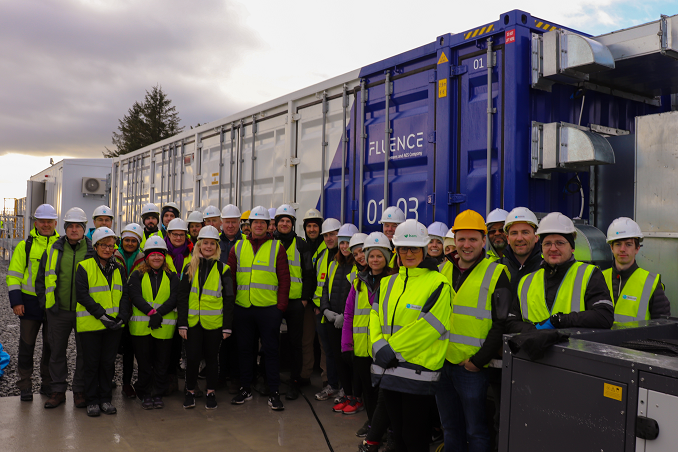 Statkraft Ireland staff and management onsite at the 11 MW Kilathmoy battery project in Ireland.
Grid development projects
Battery storage is changing the energy landscape by providing the flexibility necessary to integrate increasing levels of renewables while maintaining security of supply.
As the UK generates increasing amounts of electricity from renewable sources, storage and innovative grid management is an essential component of a successful transition to a Net Zero energy system.
We are proud to be actively developing battery energy storage and other technologies which will not only reduce the costs of generating electricity but will also assist to deliver National Grid ESO's target of being able to operate a zero-carbon electricity system by 2025.
Our grid projects
Swansea Energy Management Facility
We are proposing an Energy Management Facility near the Swansea North National Grid Substation, and have created this webpage to provide an opportunity for you to comment or ask questions.
Read more about Swansea Energy Management Facility here