Media Library
The Media Library houses all media files used on the website, for instance images, videos and documents.
The Media Library is placed to the right in the CMS. Pin it for easy access to Media, Blocks and Forms.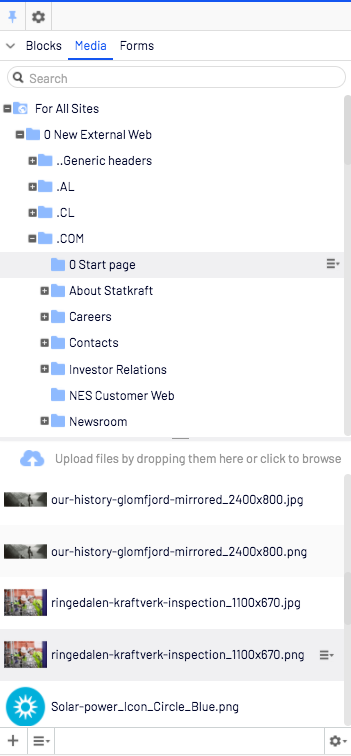 Good to know:
Drag and drop media files from your computer into the Media Library or use the + sign to the left in the menu.
Make sure to place your media files/blocks under your language domain so you easily can find the information.
Make sure to sort your media files according to your page structure. For example, if you want to add an image to "About Statkraft", make sure you add them in the folder "About Statkraft" in the Media Library.
Images, icons and other generic material that can be reused across country sites and domains can be added to generic folders such as "..Generic headers".
You can search for media files/blocks in the Media Library. Use the search field at the top of the column to search.
Things to think about when adding images:
Use .jpg format as much as you can. It is best for optimizing and scaling to increase page speed.
Use .png format for vectorized images, logos and icons.
Name the image in a descriptive way. E.g. an image of a workers at a power plant that is 500px wide and 250px wide should be nameed "ringedalen-powerplant-inspection_500x250.jpg" or "workers-ringedalen-powerplant_500x250.jpg". This allows other editors to easily recognize where your image has been used.