Page Structure
To navigate the pages on the website, use the page tree structure in the Pages tab in the left menu.
You can expand and collapse pages by clicking on the +/- sign. Simply click a page to edit it.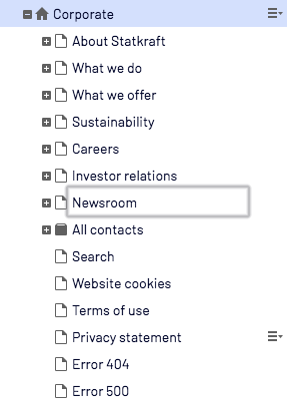 There are several ways to create a page:
Click the hamburger menu and select New page.


At the top toolbar next to Preview, Review and compare several versions, select New page.


Via the + sign at the bottom of page tree structure, a new page opens directly.

Please note! A new page should only be created when it is unique for the language version in question. Always check if there is a master version of a page that can be translated before creating new pages for your site.
For more information about creating language versions, see the guidelines below: