Map page
A Map page can be used for information about our facilities, such as power plants, projects, offices, visitor centers etc. Map pages must be tagged with country and facility type and must have coordinates. Map pages are always sorted by country.
The only thing that is different between a Map page and a Country map page is the tag alternatives and position tab.
Position tab
Here you can fill in the postition of the facility, project or power plant. Fill in the latitute and longitude. This will ensure that your map page is shown on the map.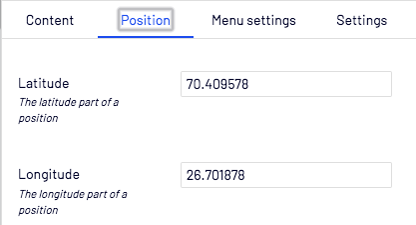 Tags
A map page has more tags than the country map page. Fill in the country to connect the Map page with the Country map page.
Add Energy source and Facility type.