Report page
A Report page is a page type used for presenting reports, presentations, webcasts etc. sorted by year. This page type is specially made for the Investor Relations page "Reports and presentations".
Report pages are used primarily under Investor Relations but can be used for other purposes. The container for a Reports page is a Standard Page with a Report block added to its content area.
Results, reports and presentation is a Standard page. The Report Pages are placed under the Standard page in the page tree.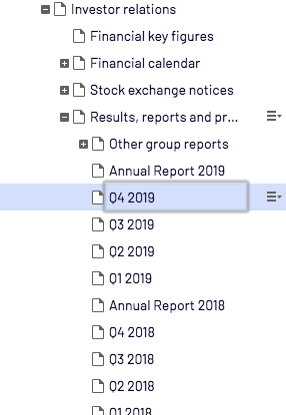 On the Standard page, Results, reports and presentations is a Reports block is placed in the content area.

Fill in link of another Standard page if you are referring to another page on the site. This is not nesseccary if you placed your report pages under your standard page.

This is a Reports page
Fill in the information that you want to show. Add links from the Media Library if you want to display documents, images and presentations. Don't forget to add a text to your reports.
Although the fields seem to be predefined (e.g. "PDF presentation link"), anything can be added to these fields.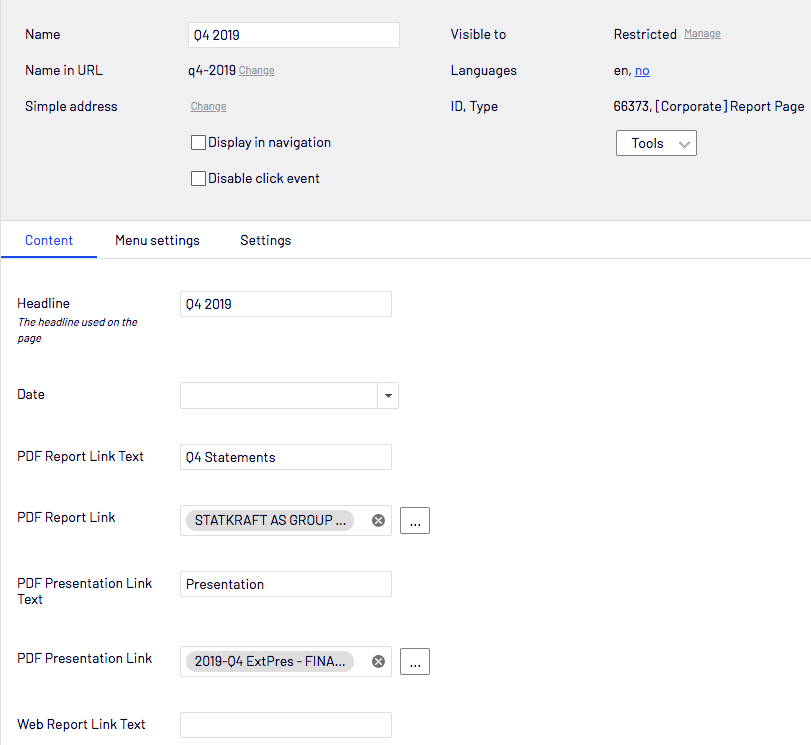 You can also add links to external pages, e.g. Web Cast Links.
Fill in report year on the bottom - the Report pages are sorted by year.