Statkraft supplies Naturstrom with 600 gigawatt hours of solar power
Düsseldorf, 25 August 2020 - Statkraft and Naturstrom AG have signed another long-term power supply agreement (PPA) for 50 MWp. Statkraft will supply electricity from its German solar portfolio to Naturstrom for eleven years. The Düsseldorf-based green energy supplier will use the solar power to supply household customers.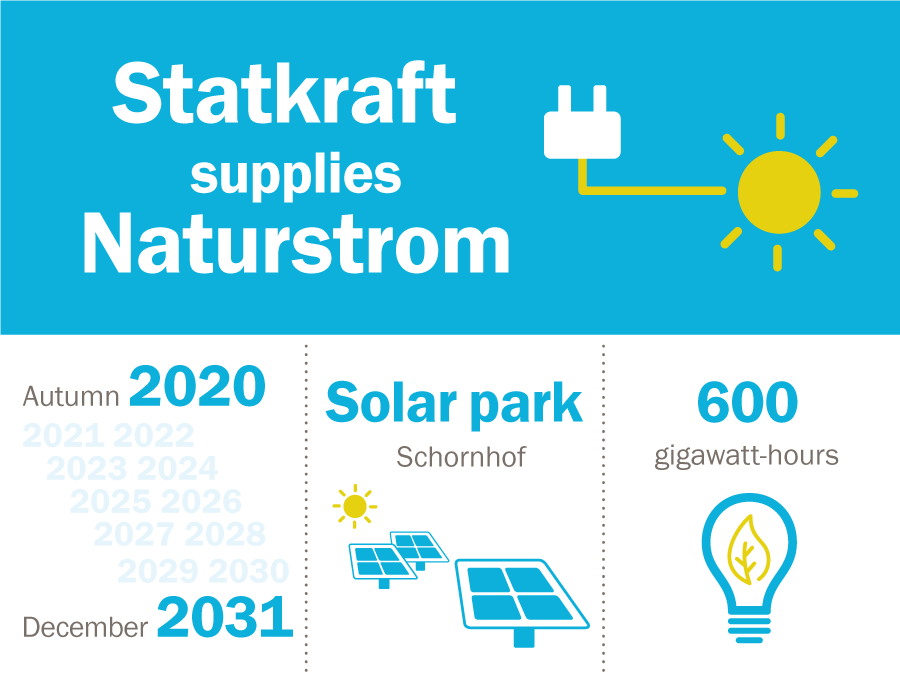 The solar power comes from the Bavarian solar park Schornhof, for which Statkraft signed a power purchase agreement with the Ingolstadt-based solar company Anumar in July this year. From autumn 2020 until the end of the term in December 2031, Statkraft will supply Naturstrom with approximately 600 gigawatt hours of solar power. The agreed contract model guarantees the green energy supplier complete price flexibility so that Naturstrom can integrate the solar power volumes into its usual procurement strategy as required.
"The interest in the direct purchase of solar power is enormous," says Dr. Carsten Poppinga, Managing Director of Statkraft. "PPAs are attractive for industrial customers, but also for energy suppliers such as Naturstrom AG who want to supply their household or commercial customers with solar power. With this PPA we are consolidating our role as a bridge-builder between the different needs of renewable energy producers and consumers".
"More and more solar parks can be realised without the statutory feed-in tariff. This means that the energy transition is entering a new phase", says Oliver Hummel, CEO of Naturstrom AG. "We are helping to drive this development forward. On the one hand through PPAs directly with the plant operators or with upstream suppliers such as Statkraft, on the other hand through the construction of our own subsidy-free plants".
In February of this year, Statkraft and Naturstrom had already concluded an electricity supply contract for 237 gigawatt hours of solar power with a term of twelve years.
Building bridges between electricity producers and consumers
Developers and operators of renewable energy plants need the greatest possible planning security for the financing and sustainable operation of their plants. They therefore expect the electricity generated to be purchased in the long term and remunerated at a fixed price exactly when the sun shines or the wind blows. Industrial customers and energy suppliers, on the other hand, want to purchase green electricity when it is needed. The pricing model of a PPA must fit in with the company's own procurement and risk strategy, which often does not allow the price to be fixed in the long term. Statkraft bridges the gap between the different needs of generators and consumers by means of tailor-made power purchase and supply contracts and by assuming residual risks. This enables project developers to further expand renewable energies while at the same time enabling industrial customers and utilities to achieve sustainability and climate targets.
Contact
Judith Tranninger
Head of Public Relations