Enfinity Global and Statkraft sign long-term PPA for the commercialization of 191 GWh of clean electricity per year in Italy
Enfinity Global, a leader in the energy transition, and Statkraft, Europe's largest generator of renewable energy, signed a 10-year solar power purchase agreement (PPA) in Italy. The committed energy will be produced by a 112 MW utility-scale solar power portfolio owned by Enfinity Global.
The portfolio, consisting of three power plants located in the Viterbo province (Lazio region), is expected to become operational in the first half of 2024. It will produce 191 GWh of clean electricity per year, enough to power 71,000 homes and offset 76,500 tons of CO2 emissions, equivalent to the amount captured by 3,500 mature trees.
"We are very appreciative to partner with a world class leader like Statkraft as we continue to build our current 2.3 GW of solar power plants in Italy," comments Carlos Domenech, CEO of Enfinity Global. "We expect the Italian PPA market to rapidly evolve, bringing efficiencies and energy predictability to customers."
"It has been a pleasure developing this partnership with Enfinity Global. This important deal, representing one of the biggest PPA transactions in the country, confirms Statkraft's positioning as a key player in power purchase agreements markets and the strategic role the company has in facilitating the renewable energy transition" says Gennaro Mathieu D'Annucci, Head of Origination Italy and France at Statkraft.
Enfinity Global owns a 2.3 GW geographically diversified pipeline of projects in Italy, including 430 MW of fully permitted projects that will start construction in the coming months. In December 2022, the company announced the closing of €142 million project financing for the construction of the above mentioned 112 MW portfolio. Enfinity Global is one of the fastest-growing investors, owners, operators, and developers of renewable energy assets, with an existing global portfolio of over 7 GW of power plants in operation, under construction and in different stages of development in energy markets with strong fundamentals.
"With Italy being one of our core markets, we are very enthused to see our company breaking ground in the private PPA market, together with our strategic partner Statkraft" comments Julio Fournier Fisas, Chief Growth Officer of Enfinity Global. "Our energy management team will keep working in optimizing our energy sales while bringing renewable energy closer and closer to the final customers".
Statkraft offers standardised PPA solutions and manages significant market and operational risks connected to the long-term offtake of power from renewable power plants. Furthermore, Statkraft develops, operates, and markets hydropower plants, solar parks and wind farms in numerous European markets, which make it possible to offer industrial and commercial companies tailor-made green power solutions. In this role Statkraft supports its corporate customers by limiting the impact of high near-term power prices on their business, while reducing their carbon footprint and helping them to achieve their sustainability and climate goals.
Contact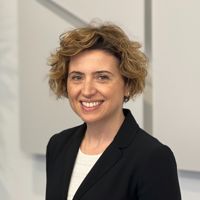 Chiara De Bellis
Communications manager