Statkraft completes construction of first R&D floating solar plant in Albania
After successful completion of the implementation phase, Statkraft's Banja Floating Solar Plant started commercial operations. The plant is generating renewable energy and injecting it in the Albanian national electricity grid.
The plant is located at the Banja reservoir in Albania, where Statkraft is operating its 72-megawatt Banja hydropower plant. This is an innovative R&D project invested by Statkraft with an installed capacity of 2 MWp and planned annual generation of approx. 2.6 GWh.
Floating solar power involves installing solar panels on floating structures on a body of water, such as a lake, fjord or ocean, or in case at hand, a hydropower reservoir. The plant is comprised of four individual floating units, each unit has a surface area of approx. 4,000 m2 and is equipped with more than 1,500 solar panels.
This floating solar technology is developed by the Norwegian company Ocean Sun and was implemented with an Albanian company, Doko. In addition to generating renewable energy, this R&D project shall also serve as a learning base to properly assess the potential benefits of this technology.
"Statkraft strongly believes that the future of energy will be based on renewables. We have completed the implementation phase of the Banja Floating Solar Project, an innovative R&D project that can contribute to the further development of renewables. Based on the Albania's renewable energy potential, we believe that the country can play a key role as a renewable energy hub in the region," says Statkraft's SVP for Southeast Europe, Simen Bræin.
"The completion of the implementation phase of this R&D project marks another achievement for Statkraft in Albania. This project has been implemented in close cooperation with the Albanian authorities. With our Banja and Moglice hydropower plants in Albania we are the largest private investor in renewable energy in the country and are currently looking into further optimizing these renewable assets," says Statkraft's Country Head in Albania, Rigela Gegprifti.
Statkraft has been present in Albania since 2007. Albania has one of the highest shares of renewable energy in Southeast Europe. Hydropower accounts for the largest share of Albania's electricity generation, representing around 95 % of its installed power capacity. In addition, Albania has some of Europe's highest number of sunshine hours per year, presenting significant potential for the development of solar power and a good fit with existing hydropower capacity.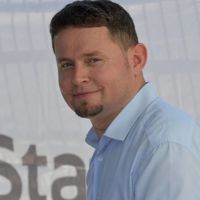 Alban Avdiu
Head of Assets Albania