The lesser known but powerful role of youth at COP26
Statkraft's solar power project manager, Carlotta Ferri, shares her experiences after a week in Glasgow.
We've got one year until COP27, to be hosted in Sharm el-Sheikh, Egypt next November. It'll be a more difficult location to travel to by train for Statkraft's Carlotta Ferri, who attended this year's conference in Glasgow. But if anyone can find a way, it's likely to be the members of the lesser-known, ambitious youth delegation – a group with an important role to play at what's become the world's most important climate gathering.

Carlotta volunteers with a network of young energy specialists, called "Young Energy Specialist – Development Cooperation". It's a Dutch organisation established in 1994, the year before the first COP took place. Frontrunners in their focus on climate and the energy transition, this group secured an invitation to be official observers at COP, and to date, they're the only youth delegation in the Netherlands with this right.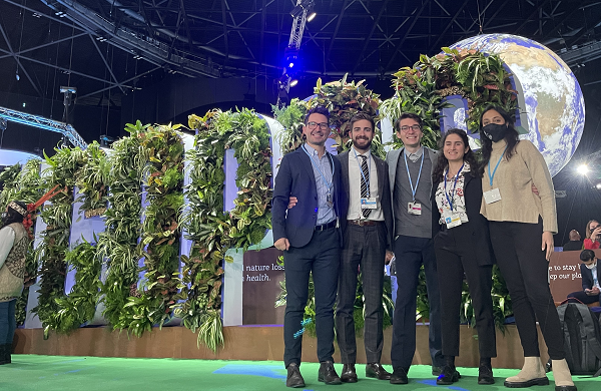 "Our organisation falls into the youth constituency group within the UN, YOUNGO. At COP, we represent our home organisations as a part of YOUNGO," Carlotta explains.

YOUNGO's purpose is to mobilise youth and provide a platform for them to lead, join, showcase, and share their actions towards a climate positive and just society, "in harmony with nature and the planet" according to their vision. And they serve an important role at each COP conference.

COP gives youth opportunities for growth and to influence climate outcomes

For Carlotta, her attendance at COP had two main purposes. It was about personal development and it was about serving as an observer in negotiations, with some lobbying and advocating in the mix.

"There are three main things happening at COP. First are the official negotiations, where official delegates of nations discuss in detail the agreements between world leaders, and the meetings of the subsidiary bodies, where they discuss technicalities for concrete implementation of the agreements," she explains.

"Then there are side events arranged by NGOs that are affiliated with the UN or sponsored by the UK government, since they held the presidency of COP this year. And last but not least, there are all the exhibitors in the pavilion, where they host talks and discussions with attendees."

It's an ocean of development opportunities for climate enthusiasts. Carlotta's focus area is on the energy transition, climate finance and market, as well as climate science, which is why the session with microclimate researchers who spent a year on the North Pole, analysing the rate of ice melting, topped her COP agenda.

Carlotta, along with her fellow YOUNGO delegates, also spent time in negotiation rooms, listening to long and detailed discussions, often between countries.

"I noticed that some countries were reluctant to put in black-and-white what exactly a certain climate commitment means for them, and so this had to be discussed. We are the young people in the room while this is happening, playing our part by advocating or lobbying to improve the outcome. This isn't very well known."
A chance to meet experts on essentially everything climate-related

COP serves as an opportunity for youth to come together and be engaged 24/7 with other people who are equally passionate about climate topics.

"When you come to COP, you enter into a bubble, and you feel so engaged. But the big job is when you get back and try to keep up the enthusiasm… and do the actual work."

For Carlotta, that work is a bit easier as a part of Statkraft and her daily role in driving the global, renewables revolution.

"It's so easy to be engaged and motivated at COP, you start to think that the whole world is fighting against climate change. But that's not exactly true."

"It's a beautiful but dangerous bubble to be in," Carlotta adds, emphasizing that COP is just the place where the initiatives start.

"All of us need to do everything we can to stay motivated in our daily work and efforts when it comes to slowing climate change, and we must try to get even more people involved and engaged."

To paraphrase Carlotta, she means that it's time to get to work. COP26 is over, and COP27 is less than 12 months away. Let's see how much progress we can make in the meantime. And thankfully, YOUNGO and delegates like Carlotta will be there in Egypt when the world gathers again, ready and waiting to hold everyone accountable for their climate commitments.