OPTERRA-plant in Karsdorf, Germany
OPTERRA/Jörg Baumann
Statkraft supplies a further 300 GWh of green power to cement manufacturer OPTERRA since beginning of April
Düsseldorf, Leipzig, 20 April 2022. Statkraft, Europe's largest producer of renewable energy, has signed a further power purchase agreement (PPA) with OPTERRA, one of Germany's leading cement manufacturers, on the supply of renewable power from onshore wind and solar power. It follows a wind power PPA agreed in 2021 and enables OPTERRA to further transition its plant operations to a renewable energy supply.
OPTERRA, a CRH Company, is driving forward its commitment to sustainability with an additional 300 gigawatt hours (GWh) of renewable power supplied by Statkraft to its plants in Karsdorf (Saxony-Anhalt) and Wössingen (Baden-Württemberg). From April 2022 to June 2023, 15 GWh of wind power will be provided; and from July 2023 to December 2032, approx. 30 GWh of solar power will be supplied annually.
"Having concluded the first wind power PPA at the end of 2021, OPTERRA has sought additional green power volumes for a long-term period. Thanks to our diversified portfolio, we can combine electricity supplies from wind farms available at short notice with long-term electricity supplies from new solar plants. Thus, OPTERRA receives exactly the PPA concept that meets its needs," says Patrick Koch, Head of Origination for Statkraft in Germany. "Renewable power PPAs are still relatively new in some German industries. As an experienced and reliable partner, we are very pleased to be able to demonstrate how such PPAs help energy-intensive companies like OPTERRA to reduce CO2 emissions."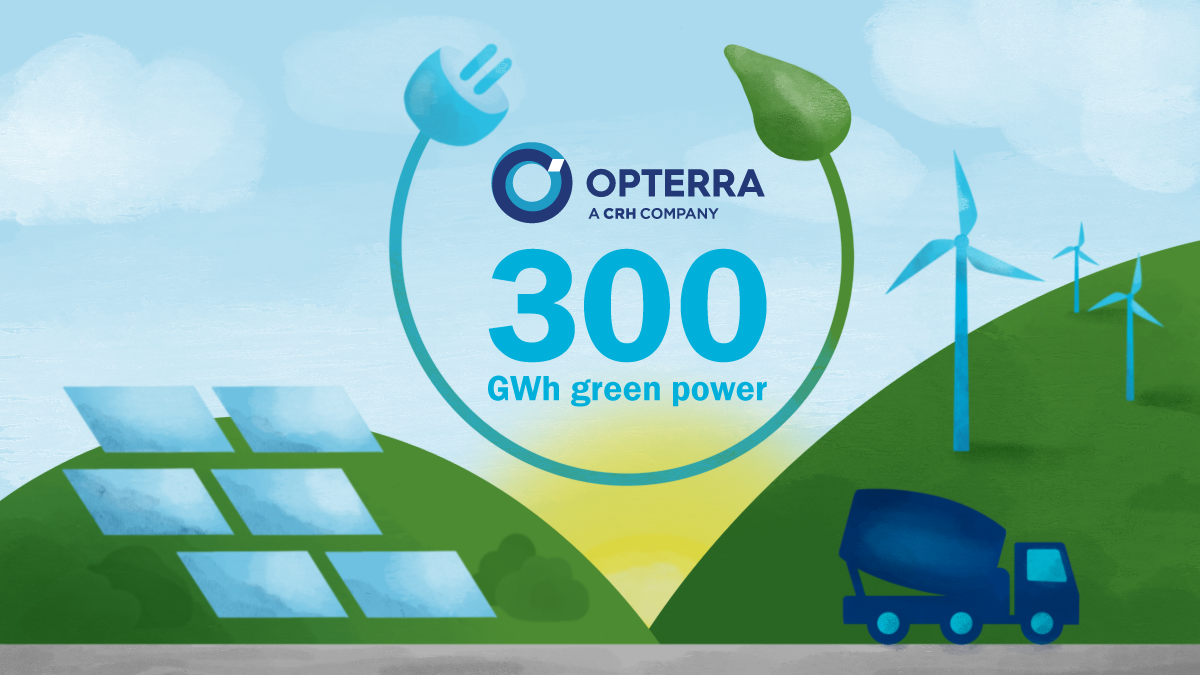 "The second PPA is another step forward on our roadmap for reducing CO2 emissions. Initiatives like these demonstrate our ongoing sustainability commitments and contribute to achieving OPTERRA's ambitious sustainability goals," says Danilo Buscaglia, CEO of OPTERRA.
In December last year, Statkraft and OPTERRA concluded a renewable power PPA with a term of four years (2022 to 2025) and a total supply volume of 120 GWh of wind power. With the additional annual delivery of approx. 30 GWh of renewable power, which corresponds to the yearly consumption of around 7,500 four-person households, OPTERRA will be able to cover up to 20% of the Karsdorf and Wössingen cement plants' annual electricity demand.
The wind power is generated in wind farms that no longer receive EEG subsidies. The PPA thus enables the continued operation of these wind farms. The solar power is supplied from Statkraft's solar portfolio and thus directly supports the growth of renewable energy in Germany.
Sustainability in OPTERRA
Under the Sustainability Initiative, OPTERRA is developing targeted measures to promote sustainable development in the German construction market. For example, the ecological, economical and social initiatives in the Karsdorf and Wössingen plants are CSC Gold certified. The certification is based on a system introduced worldwide by the Concrete Sustainability Council. This enables companies in the concrete, cement, and aggregates sectors to demonstrate their sustainability commitment. Certification takes place in the categories of management, environment, the social aspect of sustainability, as well as in the categories of economy and product (supply) chain. In addition to the company, the certification also includes its value chain.
Statkraft – building bridges between power producers and consumers
Statkraft bridges the gap between the different needs of power producers and consumers by offering tailor-made power purchase and supply agreements and by assuming residual risks. PPAs enable the continued operation of plants whose EEG subsidies have expired and the financing of new solar parks. At the same time, industrial customers achieve their sustainability and climate goals.
About OPTERRA
OPTERRA is part of CRH, the leading building materials business in the world with operations in 28 countries. With an annual production capacity of 2.6 million tons of cement, OPTERRA is one of the leading cement manufacturers in Germany. 400 employees work at the plants in Karsdorf near Leipzig, Wössingen near Karlsruhe, Sötenich near Cologne and Neufahrn in Lower Bavaria. They secure a strong position in the south, east and west of the country. Modern technology and professional competence set standards in the quality of the more than 20 types of cement offered. In addition, OPTERRA offers comprehensive services around the topics of application consulting, sales, quality and logistics.
Media Inquiries
Judith Tranninger
Head of Public Relations
Statkraft in Germany, Markets